Everything You Need to Succeed in MIPS 2017
The school year has officially begun. Soon the crisp autumn days will give way to clear blue afternoon skies and for those states with changing seasons, the hills will be set on fire in a blaze of color that signifies the triumphant end to warm weather.
If you're like me, the sight of all of the kids heading back to school and the rows of organizational goodies that line store shelves puts me in a sort of trance. Suddenly I'm reorganizing my files, buying new notebooks and thinking about my plans for the following year. 
In this blog, I've gathered all of the articles Medisolv has written about MIPS in 2017 and reorganized them to be helpful to you.
If you've been keeping up with the blog, these articles will be a nice refresher and if you missed any along the way, bookmark this page as a comprehensive guide to succeeding in MIPS for 2017. 
WHO IS ELIGIBLE FOR MIPS?
The following titles are eligible to be a part of the MIPS program.
Physician
Physician Assistant
Nurse Practitioner
Clinical Nurse Specialist
Certified Registered Nurse
Anesthetist
It's not just a title that makes you eligible for this program. You must also bill Medicare more than $30,000 annually OR provide care for more than 100 Medicare patients a year.
Resource
You can easily check to see if you are eligible to participate in this program by visiting the Quality Payment Program website. Right on their homepage, they have an eligibility look up. You'll need your NPI number.
WHAT MONEY IS AT RISK? WHAT IS THERE TO GAIN?
If you are eligible and choose not to participate in the MIPS program you'll lose -4% of your Medicare fee reimbursement to your 2019 payments (in red below). That money that you lose will feed the incentive money for those who do report (in green below).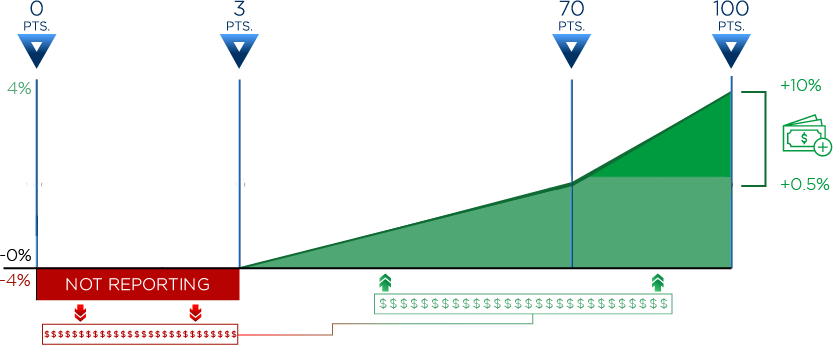 The important numbers to remember are three and 70. By achieving at least three points for your total MIPS score you will avoid the negative adjustment to your fee schedule. If you are able to bring that MIPS score up to at least 70 points, you are eligible to receive the Exceptional Performance Bonus money (noted in green on the far right). This bonus money will be stacked on top of the other incentive money you receive.
Resource
We have a great blog that goes into detail on How to Make Money in the First Year of MIPS for a deeper understanding of the budget neutral aspect of the MIPS program.
REPORTING OPTIONS
In 2017, CMS has allowed clinicians to pick their pace with participation. There are three options for participating in the MIPS program. Four options if you count "no participation" as an option.
No Participation
If you don't send in any 2017 data, then you'll receive a -4% payment adjustment.
Bare Minimum Participation
If you send ANY data to Medicare you can avoid the downward payment adjustment. You probably won't make any money but you won't lose any either.
Partial Participation
If you submit some data for a minimum 90-day period in 2017 you will avoid a negative payment adjustment and may earn a SMALL positive payment adjustment.
Full Participation
If you complete all category requirements and send that data to Medicare, you may earn a MODERATE positive payment adjustment.
Resource
In this infographic we review the reporting options and what's required from each MIPS category at that level of participation. [Infographic] 2017 MIPS Reporting Options
IMPORTANT DATES TO REMEMBER
It's getting to the end of the year now. If you haven't started tracking your measures you have a slim margin in which to begin. The date you need to remember is October 2, 2017. This is your last chance to fully participate by tracking at least 90 days of performance in each category of MIPS.
The last day to submit all of your performance data is March 31, 2018.
Resource
This Beginner's Guide to MACRA eBook will give you a rundown of the basics of the MACRA program. It's a handy reminder of what you are required to do and by what date. This eBook has been our most popular resource all year.
THE CATEGORIES OF MIPS
There are four categories that make up the MIPS program.
Quality
(Old PQRS program)
Advacing Care Information
(Old Meaningful Use program)
Improvement Activities


(New program)

Cost
(Old Value-Based Modifier program)

Each of these categories carries a different weight. Your score in each category will be totaled into one composite MIPS score.
Cost – Starting in 2018 or 2019.
Resource
This infographic reviews all four MIPS categories and includes a quick overview of their requirements. [Infographic] The Pillars of MIPS
CATEGORY REQUIREMENTS
Each category of MIPS has a different set of requirements that you must follow in order to fully participate and have your best chance at making incentive money. In 2017, the Cost category is not counted toward your total MIPS score. 
Resource
Over the course of this year, we did a three-part series on each category of MIPS. We went into deep details about what is required and provided samples of easy ways to succeed in each category. These are long reads. You may want to bookmark them for later so you can dedicate some time to them. The high-level review is below with a link to the deep dive blog.
QUALITY CATEGORY
Trying to Score: 60 or 70 points
Category is Worth: 60% of total MIPS score
Formerly: The PQRS Program
Requirements:
| | |
| --- | --- |
| | Report a total of six Quality measures to CMS. |
| | Submit at least one Outcome measure unless there is not one available in your specialty measure set. If that is the case, you can report another High Priority measure in its place. |
| | If you are reporting via the CMS web interface, you need to report 15 Quality measures. One of those Quality measures must be an Outcome measure. |
| | You must submit at least 90 days' worth of data up to 365 days of 2017 data. |

Quality: A Deep Dive Into Category Requirements
ADVANCING CARE INFORMATION CATEGORY
Trying to Score: At least 100 points
Category is Worth: 25% of total MIPS score
Formerly: The EHR Incentive (Meaningful Use) Program
Requirements:
| | |
| --- | --- |
| | Report all four Base measures. |
| | Choose from seven Performance measures and submit enough to reach the 100-point threshold. |
| | You must submit at least 90 days' worth of 2017 data. |

Advancing Care Information: A Deep Dive Into Category Requirements
IMPROVEMENT ACTIVITIES CATEGORY
Trying to Score: 40 points
Category is Worth: 15% of total MIPS score
Formerly: Brand New
Requirements:
| | |
| --- | --- |
| | Report a combination of Improvement Activity measures (up to four measures) to equal a total of 40 points. |
| | Report on up to four measures for 90 consecutive days each. |

Improvement Activities: A Deep Dive Into Category Requirements
OTHER MIPS RESOURCES
There are a few other resources that I wanted to point out at the end of this article.
There are a couple of "gotchas" within the MIPS program. This MIPS fact check was a very popular article. It goes through some common fallacies.
Blog: Time for a MIPS Fact Check
We have done two podcasts this year with Denise Scott who is a certified MACRA/MIPS Healthcare Professional. She also happens to work as a clinical consultant for our Medisolv clients. These two podcasts are worth listening to. The first reviews the idea that clinicians feel they aren't ready for MACRA. The second is timely because it reviews the proposed changes to the Quality Payment Program in 2018. Denise provides tips on what to do now and how to prepare for MIPS next year.
[Podcast] Are Clinicians Prepared for MACRA?
[Podcast] 2018 Quality Payment Program Proposed Rule Changes 
Now if you've reached this point and thoroughly digested all of these materials you'll have no problem at all with our last resource. This 12-question quiz will test your MACRA knowledge.
Even with all of these resources, you'll still need a software tool that can help you collect, analyze and submit your data to CMS. It's not too late to be successful in MIPS this year. Don't settle for the bare minimum. Talk to Medisolv today about our MIPS software solution.
---
On-Demand WEBINAR:
SURVIVING MIPS IN YEAR 2
Preparing for MIPS reporting in 2018
Held on: December 2017

This free educational webinar will help you understand who is eligible for the MIPS program and what's required for successful completion. We will outline strategies that will help you prepare your providers for their best reporting year yet.
In this webinar, you will learn:
About the changes made in the 2018 final rule for the Quality Payment Program;
Reporting requirements for MIPS;
How the final score is calculated;
Best practices and resources for preparing your clinicians for a successful quality reporting year.